development – digital arts – internet
Knowledge is free. No one may take possession of it.
------------------------------ NOTE ------------------------------
This article is not up to date, as this Theme was created for Aptana 1.5.1 and Aptana 3 fortunatly supports PHP again. It also includes a native Dreamweaver syntax highlighting. This however seems buggy, so you can download my own improved version of it here if you like to try it (I just try to kill the bugs and make it look a bit nicer): Dreamweaver_Blackbam_Aptana303.tmTheme
In the beginning of web development a lot of people are creating their code-files with Adobe Dreamweaver, a standard tool for beginners and designers, because it is in the Adobe Collection, but no solution for serious programmers. When a programmer leaves the text-editors and graphical-editors behind to use a serious IDE there are a lot of possibilities like Netbeans, Zend, Eclipse, Visual Studio and so on.
My choice for developing web applications is Eclipse with the Aptana Plugin. This is really comfortable for PHP-Development, but i always hated the boring and ugly built-in syntax highlighting. Searching on the internet for a nice color scheme was leading to some quite nice results, but I was missing the nice, clear and colourful syntax highlighting of the Dreamweaver, so I decided to create a color scheme similar to it. Example: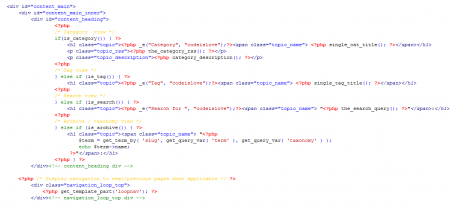 Download: Aptana Dreamweaver color syntax highlighting by Blackbam
Open Eclipse with the Aptana Plugin
Go to Window -> Preferences -> Aptana -> Editors -> [langauge] -> Manage Colorization -> Import Colors
Enjoy