development – digital arts – internet
Knowledge is free. No one may take possession of it.
Warning: Parameter 2 to qtranxf_postsFilter() expected to be a reference, value given in /home/.sites/609/site1266/web/blackbams-blog/wp-includes/class-wp-hook.php on line 286
In the beginning of web development a lot of people are creating their code-files with Adobe Dreamweaver, a standard tool for beginners and designers, because it is in the Adobe Collection, but no solution for serious programmers. When a programmer leaves the text-editors and graphical-editors behind to use a serious IDE there are a lot of possibilities like Netbeans, Zend, Eclipse, Visual Studio and so on.
My choice for developing web applications is Eclipse with the Aptana Plugin. This is really comfortable for PHP-Development, but i always hated the boring and ugly built-in syntax highlighting. Searching on the internet for a nice color scheme was leading to some quite nice results, but I was missing the nice, clear and colourful syntax highlighting of the Dreamweaver, so I decided to create a color scheme similar to it. Example: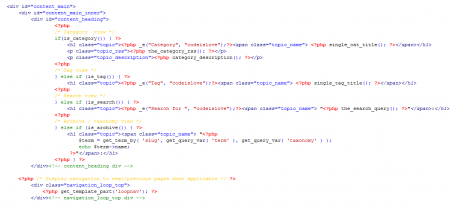 Download: Aptana Dreamweaver color syntax highlighting by Blackbam
Open Eclipse with the Aptana Plugin
Go to Window -> Preferences -> Aptana -> Editors -> [langauge] -> Manage Colorization -> Import Colors
Enjoy