development – digital arts – internet
Knowledge is free. No one may take possession of it.
Code is Love - this is a very basic core theme for WordPress, which i developed in dependence on the WordPress standard-themes, the notesblog-core-theme and a lot of more. I use this core theme as a base for almost any kind of WordPress Theme which must be developed. It saves many hours within the development process. Every developer visiting this site is invited to use this
free
Theme, too. And also to help with the further development process.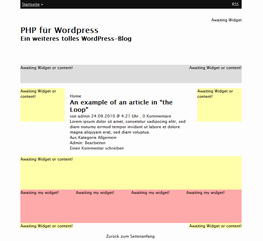 Download
Download codeislove-0.5.1.zip
How this theme is supposed to work
This is a "WordPress Core Theme", that means it is not a theme to power a blog, but a code-skeleton to build a great theme to power a blog as fast and as good as possible. I tried to make a skeleton with the maximum flexibility which helps with structuring and building a medium sized WordPress project, while adding a lot of helpful functionality for customizing all parts of the theme there this is important. The theme is under development and is improved monthly, everytime when I am working on a project.
Features
valid XHTML 1.0, CSS 2 (we will wait until HTML5/CSS3 is really widely supported)
minimalistic, but as big as useful template for creating WordPress Themes in ultra-fast times
flexible and adaptable
clear structured
implementation of internationalization and all SEO basics
some daily helpful functions like custom comments, page-tree-level-check, ...
only dummy stylesheet - styling is up to you
template for Theme options page, so you can provide all settings to your customer
Usage and Feedback
This theme is GPL licensed. Be free to use this open theme for any kind of project, and please give me feedback how to improve it.
Version history
**** UPDATE 04.03.2012 **** 0.5.1 released
Various improvements, including easy Theme options page, additional libraries, code improvements and also code reduction.
**** UPDATE 16.11.2011 **** 0.5 released
Added Theme Options Page Template, some new functions, a library and default content formatting template.
**** UPDATE 26.10.2011 **** 0.4.7 released
Added Functions, Theme settings, global textdomain and libraries.
**** UPDATE 16.09.2011 **** 0.4.6 released
Adding a lot of features of WordPress 3.1 and the new Theme "twentyeleven", support for post formats.
**** UPDATE 30.08.2011 **** 0.4.5 released
Various minor improvements, better organization of page headings.
**** UPDATE 31.03.2011 **** 0.4 released
Minor Bugfixes, improved comments template.
Known projects developed built on this core theme
About 20 successfull websites currently, maybe more...

Dieser Eintrag wurde am 25. October 2010 um 23:23 in der Kategorie WordPress veröffentlicht. You can book the comments for this article RSS 2.0. Feedback, discussion, commendation and critics are welcome: Write a comment or trackback.
Tags: codeislove, core theme
Warning: Use of undefined constant Ext_related_links - assumed 'Ext_related_links' (this will throw an Error in a future version of PHP) in /home/.sites/609/site1266/web/blackbams-blog/wp-content/themes/SilentWoodsByBlackbam/single.php on line 75